Impulse PF controller ICR12
Impulse power factor controller ICR is designed for usage in applications where load variation between working times is too high to be measured by measuring current transformer. ICR controller is also solution for unbalanced systems where there is possibility to take energy impulses directly from utility static energy meter. Typical application for ICR controller is PFC for photo-voltaic power plants.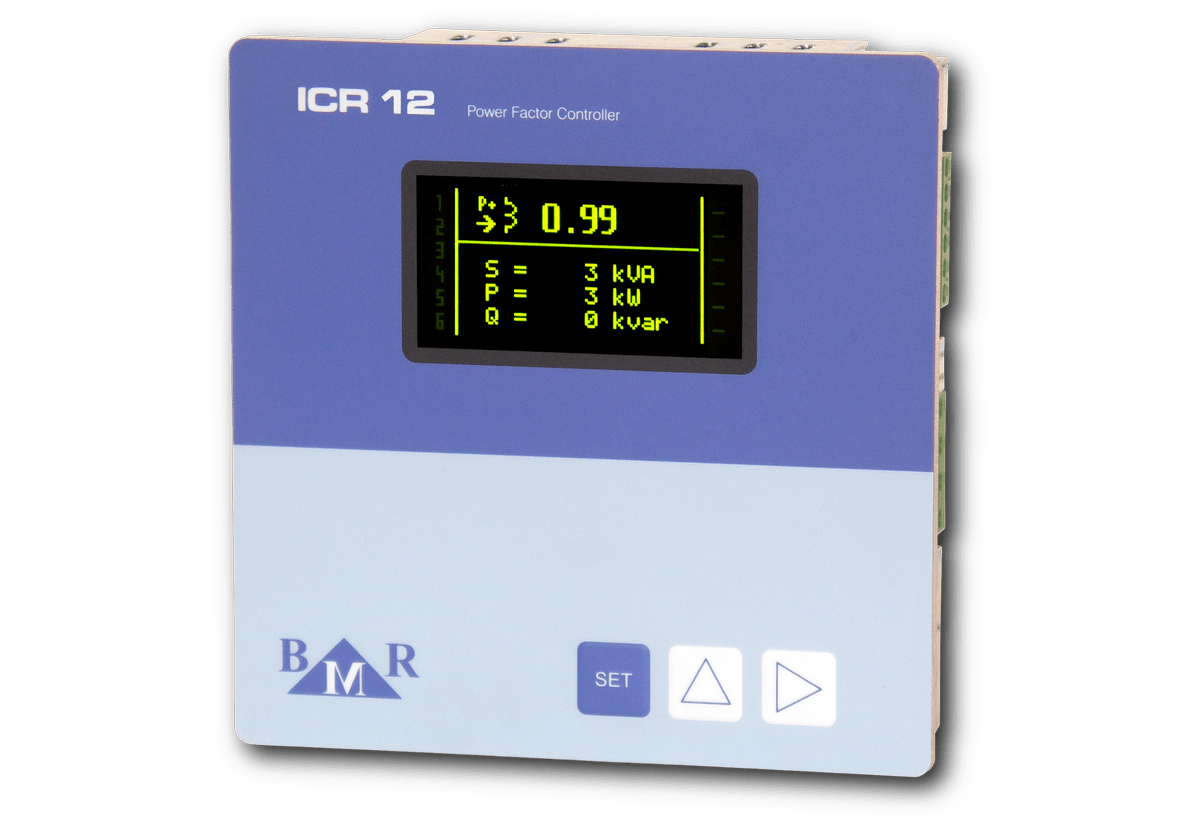 4 quadrant measurement and regulation
4 impulse inputs (+P, -P, +Q, -Q)
APFR regulation method
independent alarm output
adjustable averaging period of APFR
OLED graphic display
temperature sensor for ventilator control
tariff input
ready for de-compensation PFC
built-in auxiliary supply 12 V DC
operations and working hour counter
RS485 interface with Modbus RTU protocol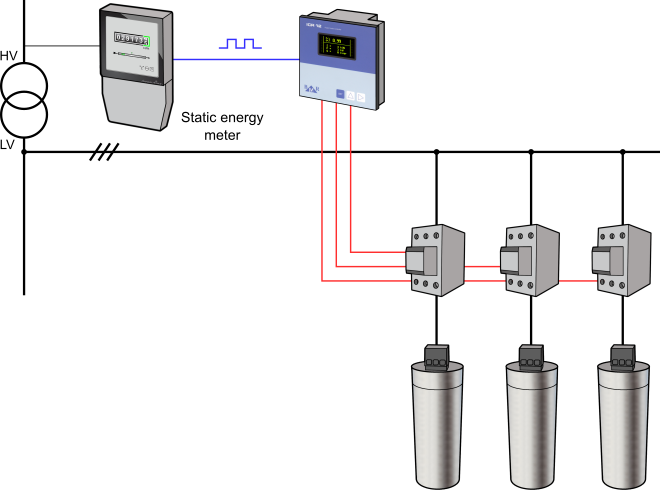 Function
Controller ICR is reading, directly or via optical separation unit, pulses from static energy meter. Base on the pulse weight and time distance between particular pulses, controller calculates active and reactive powers. At low signal frequency of measuring pulses, controller corrects power values depending on running time.
Smart decompensation system
ICR controller is solution for decompensation of capacitive loads such as photovoltaic power plants or system with long cables. Controller is tuning decompensation reactor by capacitor steps in order to obtain the needed reactive inductive power for capacitive load decompensation. It brings easier and cheaper PFC construction by using only one decompensation reactor.
Internal power supply
Controller has builtin 12 V DC power supply for supplying the energy meter pulse outputs. Internal power supply is fully metallically separated from the controller.
OLED display
Bright and fully graphic OLED display gives another dimension to power factor controller. It provides monitoring features to give easy understanding overview about the system situation.
Technical features
| Parameter | Value |
| --- | --- |
| supply voltage | 230 V AC 50 Hz (+10%,-15%) |
| system frequency | 50/60 Hz |
| maximum pulse frequency | 10 Hz |
| minimum pulse length | 50 ms |
| self consumption | 10 VA |
| number of regulated outputs | 12 |
| alarm output | 250 VAC / 5 A |
| output contacts load | 250 VAC / 5 A |
| range of regulated PF | 0.8 ind. ... 0.8 cap. |
| reconnection delay contactor steps | 5 ... 900 s |
| disconnection delay for contactor steps | 5 ... 900 s |
| capacitor step settings | manually |
| ambient temperature | -25°C ... +70°C |
| front panel | 144 x 144 mm |
| panel cutout | 138 x 138 mm |
| side depth | 55 mm |
| weight | 1.5 kg |
| protection degree | IP20 rear side / IP54 frontdní panel |