Double thermostat DTR01
DTR01 keeps independently for both channels set reference temperature with hysteresis 2°C. The relay has two normally open output contacts 16 A. Double thermostat DTR01 is supplied together with two NTC 3k3 sensors with the 3 m cable length.
two independent channels for temperature measurement
fix hysteresis 2°C
measuring temperature range -25°C ... 95°C
self test of connected temperature sensors
small dimension 1-DIN rail module
relay status LED signalization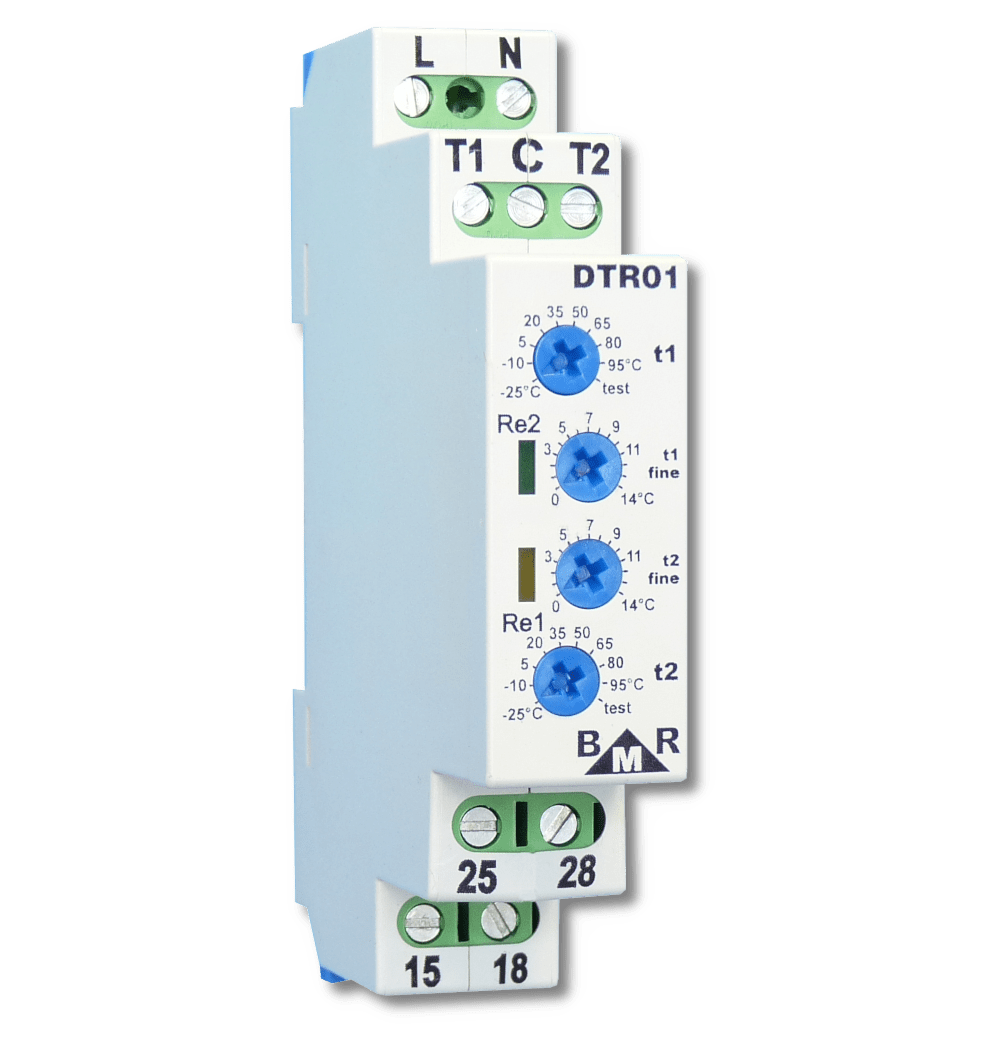 If the set temperature value T is not reached, output relay R is closed. When requested set temperature is reached, relay R is disconnected. Reconnection of relay R is made at the moment of measured value decline under the set level T minus hysteresis 2°C. Hysteresis eliminates relay bouncing at boundary values of temperature. Each channel is totally independent.
Technical features
| Parameter | Value |
| --- | --- |
| auxiliary supply voltage | 89 ... 264 VAC |
| measuring temperature range | -25°C ... 109°C |
| type of sensor | BMR RT_P, NTC 3k3 |
| self consumption | max. 1.5 VA |
| number and type of contacts | 1x NO per channel |
| nominal current of output contact | 16 A |
| switching power | max. AC 2000 VA |
| trigger current | 30 A |
| nominal / max switching voltage | 250 VAC / 440 VAC |
| mechanical lifetime | 3 x 106 |
| electrical lifetime | 1 x 104 250 VAC, 8A |
| ambient working temperature | -20 ... +55 °C |
| working position | any |
| mounting | IEC 60715 (DIN 35) |
| protection degree | IP 20 |
| I/O insulation | 4 kV |
| maximum input wire diameter | max. 2 x 1.5 mm2; 1 x 2.5 mm2 |
| weight | 85 g |
| dimensions | 90 x 18 x 65 mm |
| related norms | IEC 60255-1 |