Current monitoring relay MRI25T
This range of current monitoring relays are used for the control of AC current signal in various industrial and domestic applications. The measuring part of the instrument is galvanic separated from the current connection terminals. The monitoring relays MRI range have one double-throw output contact up to 16 A.
measuring range 2.5 ... 25 A
output relay contact 16 A
universal supply input 89 ... 264 VAC
small dimensions 1-module on DIN rail
optical status LED signalization
If the set current level is exceeded, output relay will make connection. If the measured current level goes under the set level minus fix hysteresis 10%, output relay will disconnect. Hysteresis reduces relay bouncing at threshold limit of current values. Position OFF disables current measurement, output is closed and yellow LED is off. Contact no. 16 – 15 is closed.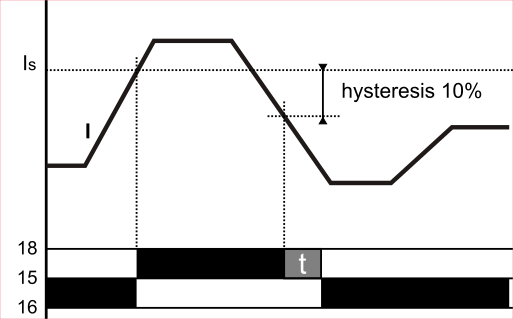 Technical features
| Parameter | Value |
| --- | --- |
| supply voltage | 89 ... 264 VAC |
| measuring current range | 2.5 ... 25 A |
| Maximální zatižitelnost proudových svorek | max 32 A |
| time setting range | 0 ... 15 min |
| self consumption | max. 1.5 VA |
| number and type of output contacts | 1x changeover |
| nominal current | 16 A |
| switching power | max. AC 4000 VA |
| trigger current | 30 A |
| nomina/max switching voltage | 250 VAC / 440 VAC |
| mechanical lifetime | 3 x 107 |
| electrical lifetime | 1 x 105 250 VAC, 8A |
| ambient temperature | -20 ... +55 °C |
| working position | any |
| mounting | IEC 60715 (DIN 35) |
| protection degree | IP 20 |
| electrical strength | 4 kV |
| conductor rigid and flexible | max. 2 x 1.5 mm2; 1 x 2.5 mm2 |
| weight | 85 g |
| dimensions | 90 x 18 x 65 mm |
| related standards | IEC 60255-1 |