Maximum current controller HJ103RX
The HJ103RX main circuit breaker current maximum monitor measures the alternating current in three phases and compares the measured values with the value set on the DIP switch. If the measured current value in any phase exceeds the set value, the device gradually disconnects the stages so that there is no long-term exceeding of the set maximum current value and thus equipment of the main circuit breaker. Current measurement takes place directly using external current transformers with a maximum range of 100 A. The HJ103RX device has one regulation channel with three stages and is therefore suitable for buildings with a predominance of three-phase consumers.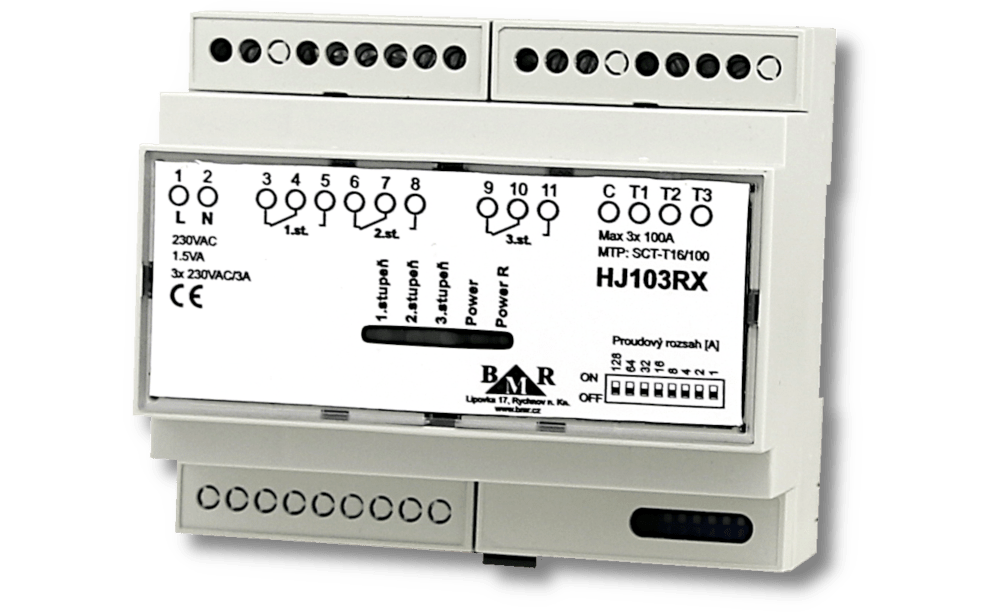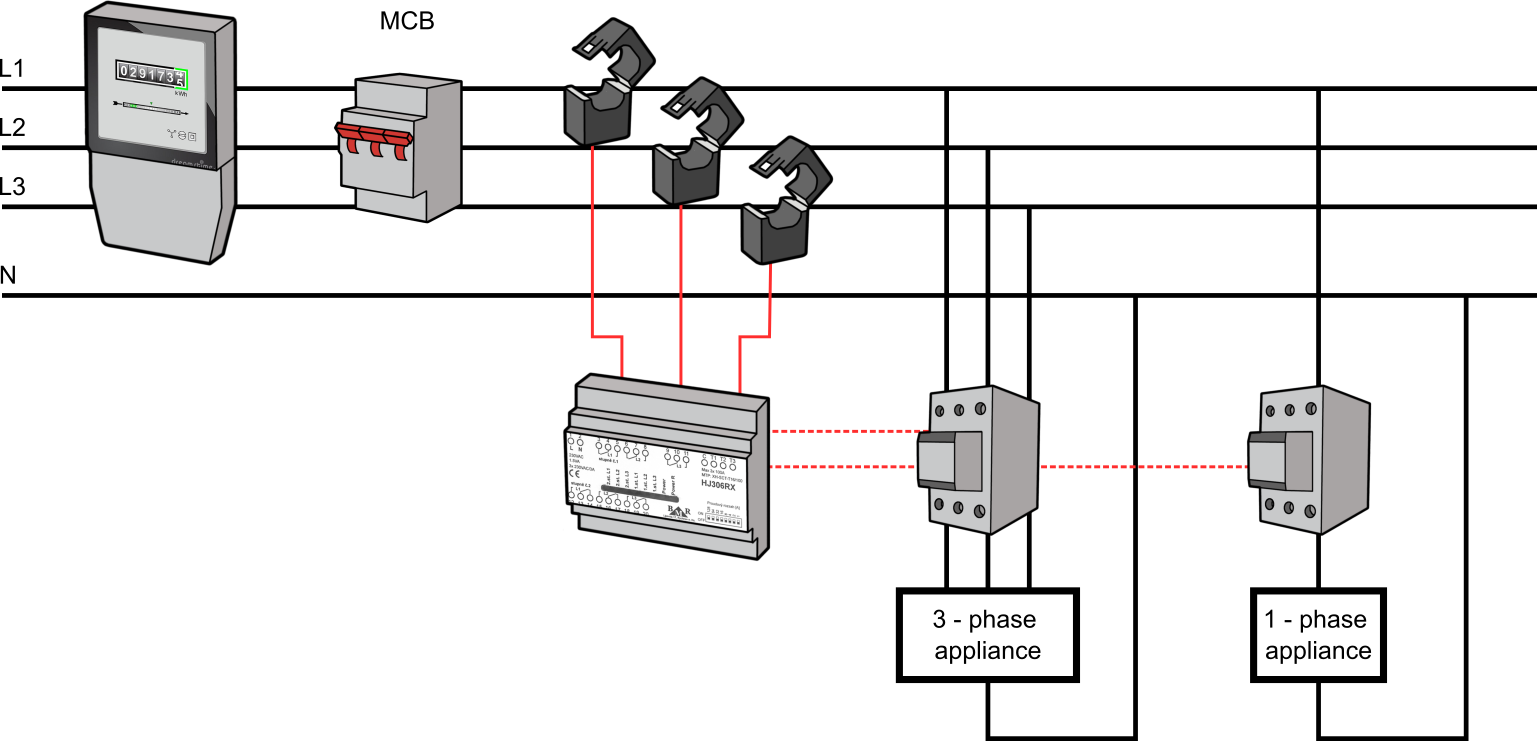 for objects with dominance of three-phase loads
regulation of load peaks
suppression of unfavorable contemporaneity of electricity consumption
derating of main circuit breaker
reduction of the fee according to the nominal value of the main circuit breaker
3 regulated steps to control 3 phase apliences
direct current measurement via external CT's up to 100 A
LED status indication
Function
Device measures the current in all three phases, which it then compares with the value set on the DIP switch. If the measured current in any phase is greater than the value set on the DIP switch, the measurement is repeated after 200 ms and if this current value is also greater than the set value, the first stage is turned off in the phases where the threshold was exceeded. During the following measurement, the drop in current that caused the tripping of the stage is determined and this value is stored. If the value of the measured current is still above the set limit, the next stage in the given phase is switched off after 3 seconds and the value of the current drop caused by the disconnection of this stage is saved. Re-closing of any stage occurs under the condition that the currently measured current value plus the current drop of the appropriate stage plus 1A is less than the set current maximum. If multiple stages were disconnected, the stage that was switched off earlier is evaluated preferentially. However, if the above condition is not met for him, the next step in the order is evaluated. This measurement procedure eliminates the monitor's reaction to a short circuit as well as to transient current events that occur, for example, during the start-up of electric motors.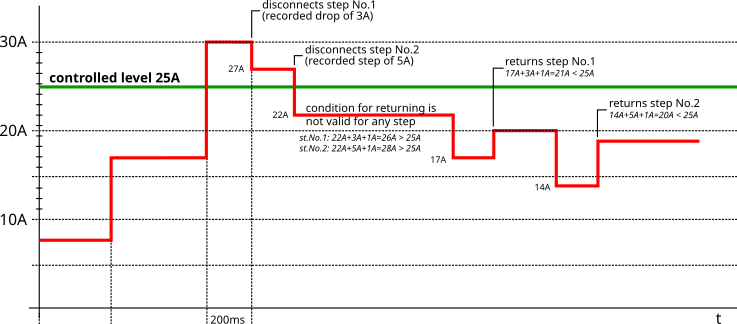 External CT - measuring current transformers
Splitcore measuring current transformers are supplied with the device, enabling simple mounting on the phase conductor without the need to disconnect it. These MTPs can be safely disconnected from the instrument without the need to short-circuit the measuring circuit before disconnection, as is required for classic x / 5A measuring transformers.
Technical features
| Parameter | Value |
| --- | --- |
| supply voltage | 230 VAC, 50/60Hz |
| measuring current range | 3 x 100 A |
| measuring current accuracy | 1% |
| number of regulated chanels | 1 |
| number of steps per channel | 3 |
| CT | 100A / 333 mV, max. O 16 mm, connection cable length 1m |
| type and capability of outputs | 1 x changeover 250VAC / 3A, potential free |
| self consumption | 1.5 VA |
| protection degree | IP20 |
| dimensions | 105x90x60 mm, 6 modules on DIN rail |
| weight (including set of CT's) | 500 g |