Asymmetric cycler TRC01
TRC01 is a time relay – asymmetrical cycler, with beginning of pulse or pause. Time pause is adjustable from 0,1 sec to 10 days. Other possible modes are: timing always ON and timing always OFF. Relay is equipped with one 8 A output changeover contact.
BMR time relays have universal power supply circuit available for AC and DC voltage in range 12 ... 230 V.
Time relays are equipped with operation status and LED optical signalisation for easy operation and service.
adjustable timer 0.1s ... 10 days
universal AC / DC power supply 12 ... 230 V
1 x changeover 8 A contact
function permanent On or OFF
small design 1- modul DIN rail
status optical LED signalization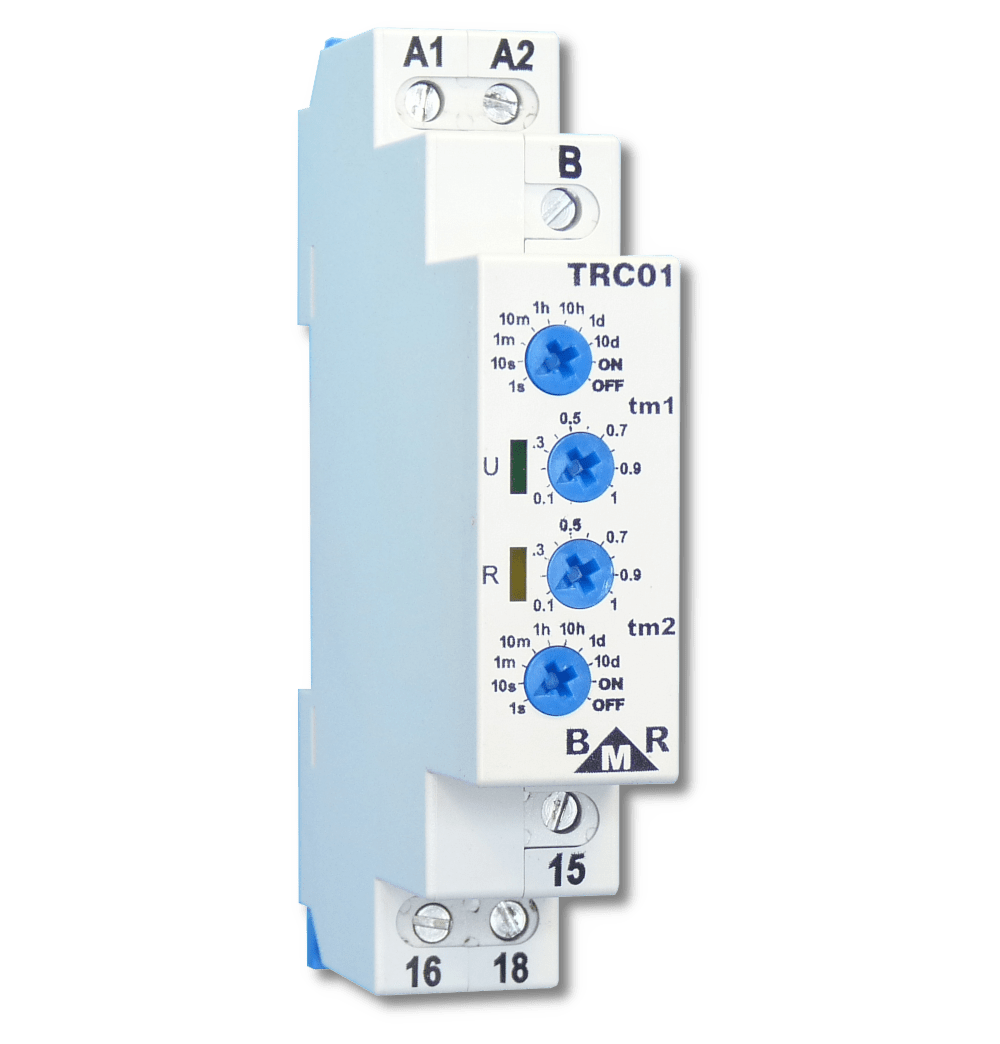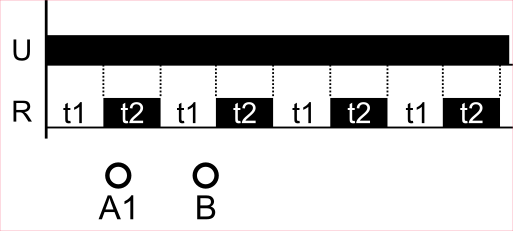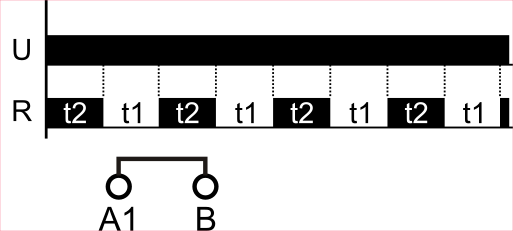 Function
After connecting the supply voltage, the device detects the state at terminals A1, B. Based on the detected state, the device starts to cycle with a gap or a pulse. The time is set using trimmers in the range of 0.1s to 10 days. The device also supports the function of permanent switching on or off, without the need to disconnect the supply voltage, by setting the ON or OFF function on the trimmers of the device.
Technical features
| Parameter | Value |
| --- | --- |
| supply voltage | 12 VAC,VDC ... 230 VAC |
| self consumption | max. 1.5 VA |
| adjustable time range | 0.1 s ... 10 days |
| type and number of output contact | 1 x change-over |
| nominal current of output contact | 8 A |
| switching power | max. AC 2000 VA |
| trigger current | 30 A |
| nominal / max switching voltage | 250 VAC / 440 VAC |
| mechanical lifetime | 3 x 106 |
| electrical lifetime | 1 x 104 250 VAC, 8A |
| ambient temperature | -20 ... +55 °C |
| working position | any |
| mounting | IEC 60715 (DIN 35) |
| protection degree | IP 20 |
| I/O insulation | 4 kV |
| maximum input wire diameter | max. 2 x 1.5 mm2; 1 x 2.5 mm2 |
| weight | 85 g |
| dimensions | 90 x 18 x 65 mm |
| related standards | IEC 60255-1 |