Relay for delayed Y/Δ motor start TRS2D
TRS2D is a time relay designed for delayed reconnection from star to delta connection during motor start up. It is possible to set time from 0.1 sec to 10 days for start connection and delay from 0.1 to 1 second for reconnection between star to delta. The relay has one output double-throw contact 8 A.
BMR time relays have universal power supply circuit available for AC and DC voltage in range 12 ... 230 V.
Time relays are equipped with operation status and LED optical signalisation for easy operation and service.
adjustable timer 0.1 s ... 10 days
adjustable time of Y/Δ reconnection 0.1 s ... 1 s
universal power supply 12 VAC/DC ... 230 VAC
relay output contact 8 A
small dimension 1-module on DIN rail
status optical LED signalization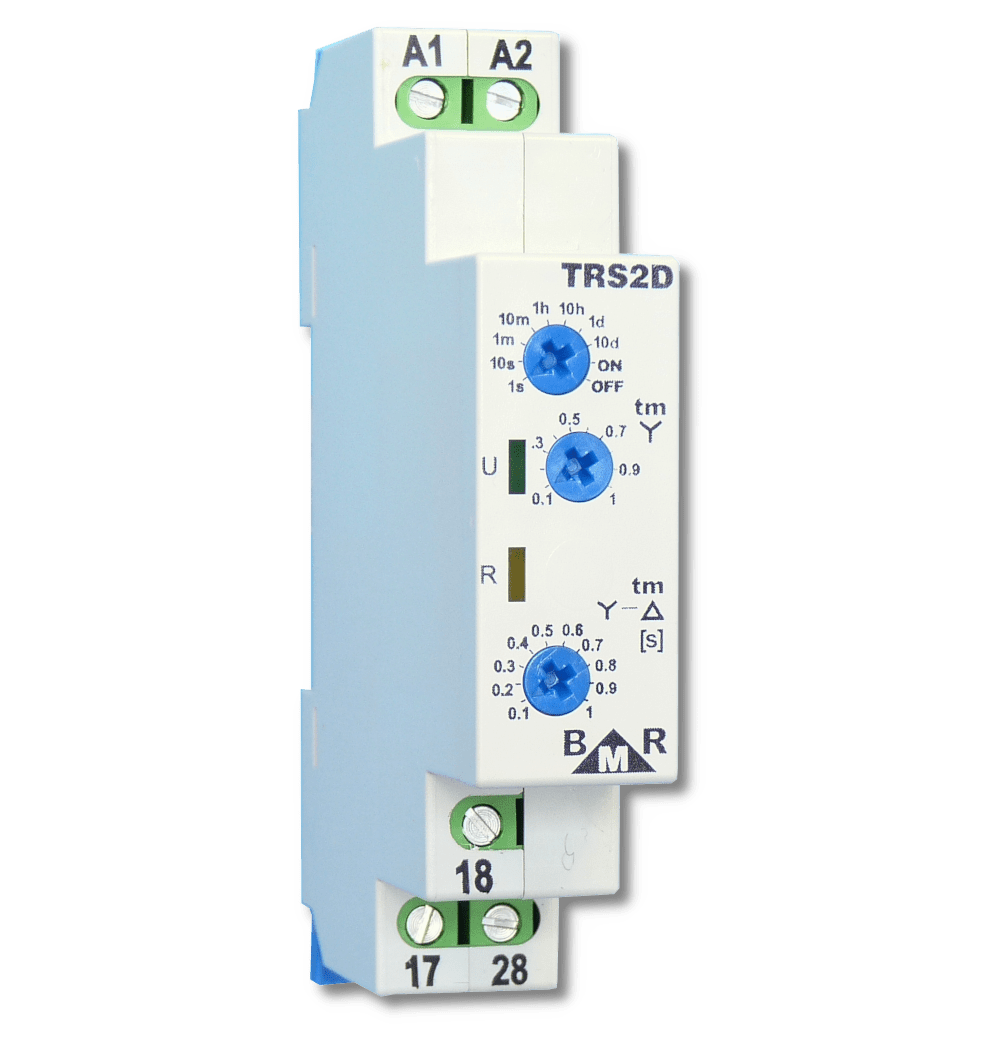 Function
When the supply voltage is connected to the relay, contacts 17 - 18 are closed and the relay reads the set time of starting the motor to the star. After this time expires, contacts 17 - 18 are disconnected and the set delay between star and delta switching begins. After the expiration of this delay, the relay closes contacts 17 - 28 for the motor to run in a triangle.
Technical features
| Parameter | Value |
| --- | --- |
| supply voltage | 12 VAC,VDC ... 230 VAC |
| self consumption | max. 1.5 VA |
| adjustable time range | 0.1 s ... 10 days |
| number and type of output contact | 1 x changeover |
| nominal current of output contact | 8 A |
| switching power | max. AC 2000 VA |
| trigger current | 30 A |
| nominal / max switching voltage | 250 VAC / 440 VAC |
| mechanical lifetime | 3 x 106 |
| electrical lifetime | 1 x 104 250 VAC, 8 A |
| ambient temperature | -20 ... +55 °C |
| working position | any |
| mounting | IEC 60715 (DIN 35) |
| protection degree | IP 20 |
| I/O insulation | 4 kV |
| maximum input wire diameter | max. 2 x 1.5 mm2; 1 x 2.5 mm2 |
| weight | 85 g |
| dimensions | 90 x 18 x 65 mm |
| related standards | IEC 60255-1 |