Power factor controller FCR06T & FCR12T
The power factor controllers FCR06T and FCR12T are well proven controllers for LV and MV applications as well as for fast and hybrid thyristor power factor correction applications. The power factor controllers FCR06T and FCR12T offer advanced functionality, the automatic detection of measuring circuits and capacitor steps, three-phase current measurement, and also reliability and design for the hardest conditions.
In unbalanced systems it is necessary to measure current in each phase and calculate needed compensation power from real three-phase powers. FCR06T and FCR12T controllers are available with three current inputs.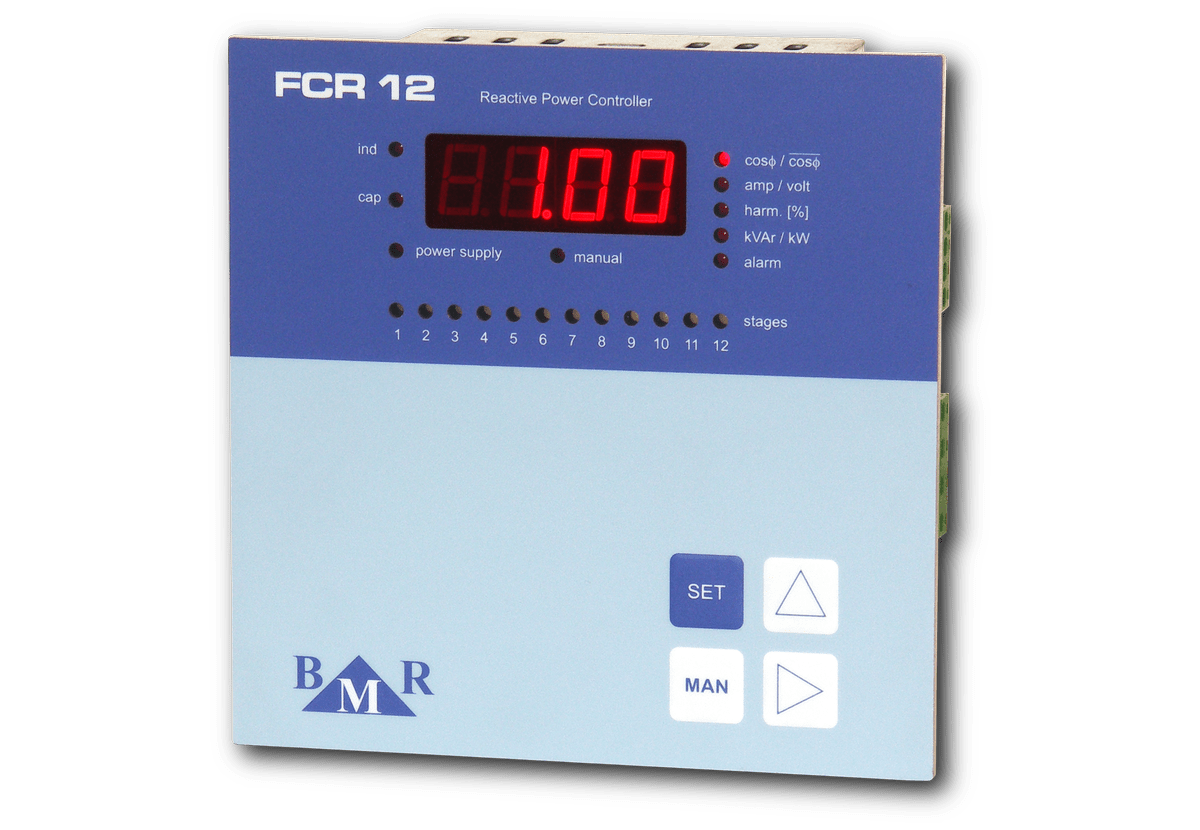 4 quadrant measurement and regulation
3 phase current measurement via CT's
three regulation methods (APFR default)
ready for dynamic and hybrid PFC
universal CT input ../1A and ../5A
thyristor control speed up to 25 operations in 1 s
6 or 12 regulated outputs
ready for de-compensation PFC
cascade parallel operation of two controllers
high sensitivity of current sensing (3 mA)
communication interface RS485
internal temperature sensor
independent alarm output
monitoring of switching operations and operation time
panel mounting design 144 x 144 mm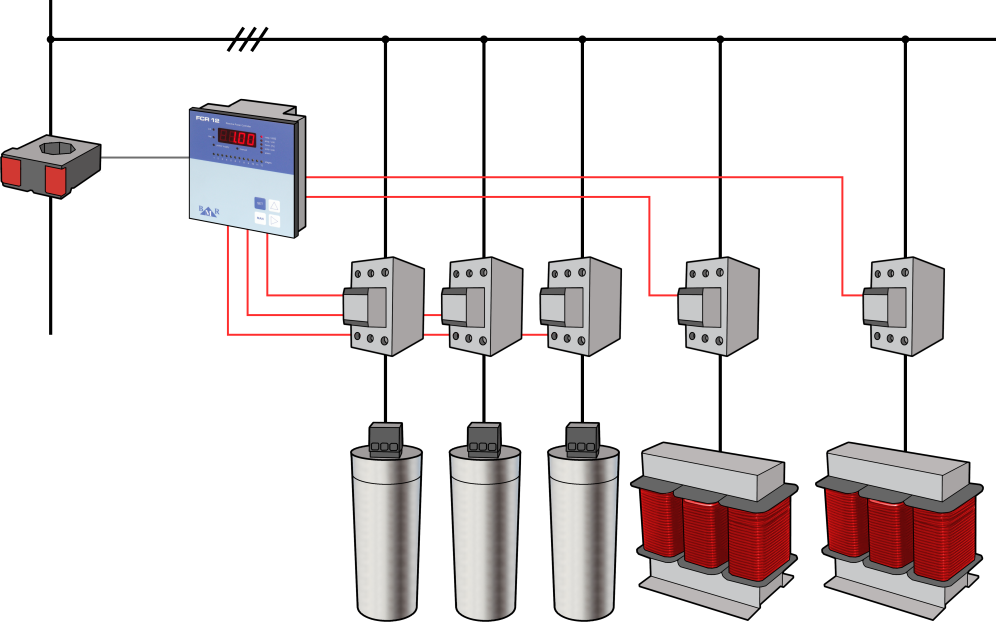 De-compensation
The controllers FCR06T and FCR12T have features for smart de-compensation with several reactor steps operating in a similar way as capacitor steps or only one reactor that is tuned by capacitor steps.
Function
Device digitizes measured phase voltage and current in one phase. Then, from those values, parameters like: power factor, effective values of voltage and current, apparent power and reactive power, are calculated. With consideration of requested cosφ it calculated need compensation power. According to its size, regulator switches on or off appropriate capacitor stages.
Within the scope of each power level, regulator uses method of circle switching. All the time connects this stage at appropriate power level which was switched off for longest time. Everything is made so that regulator will reach optimal compensation in one regulation cycle with minimum number of switched stages.
Alarmy
Power factor controllers FCR06T and FCR12T have several alarms which are adjustable by level, min time of event, action on regulated steps etc. Special alarm from temperature is able to control forced ventilation of PFC and protect capacitor steps against higher temperature.
The controller offers the possibility of a temperature alarm working in two levels. The first level starts the ventilation of the cabinet. The second level disconnects all steps and gives an alarm notification on the display.
Cascade operation of two controllers
Two controllers in variant C can be connected together to expand the number of controlled steps or substitute for each other in a system with two main power supplies. Any one of controllers can behave as a master or slave.
Software
Thanks for software Power Monitor System is possible controllers with RS485 easily configured and also use for monitoring of PFC systems.
Technical features
| Parameter | Value |
| --- | --- |
| supply voltage | 400 V AC 50 Hz (+10%, -20%) |
| measuring voltage | 400 V AC 50 Hz (+10%, -20%) |
| system frequency | 50 / 60 Hz |
| measuring current range | 0.01 ... 5.3 A |
| self consumption | 10 VA |
| number of regulated outputs | 6 or 12 |
| independent alarm output | 250 VAC / 5A |
| output contacts load | 250 VAC / 5A |
| range of regulated PF | 0.8 ind. ... 0.8 cap. |
| reconnection delay: semiconductor / contactor steps | 0s / 5 ... 600 s |
| disconnection delay: semiconductor / contactor steps | 0s / 5 ... 600 s |
| capacitor step settings | manually / automaticaly |
| ambient temperature | -25°C ... +70°C |
| front panel | 144 x 144 mm |
| panel cutout | 138 x 138 mm |
| side depth | 55 mm |
| weight | 1.5 kg |
| protection degree | IP20 rear side / IP54 front panel |