Frequency monitoring relay MRF1P
MRF1P is monitoring relay designed for network frequency control with adjustable maximum and minimum zone level. Device has internal timers for delay at action and reconnection.
Relay MRF1P is equipped with one output double-throw contact 5 A.
max and min voltage frequency monitoring
two internal timers
measuring frequency 40 ... 70 Hz
output relay contact 5 A
small dimension 1-module on DIN rail
optical LED signalization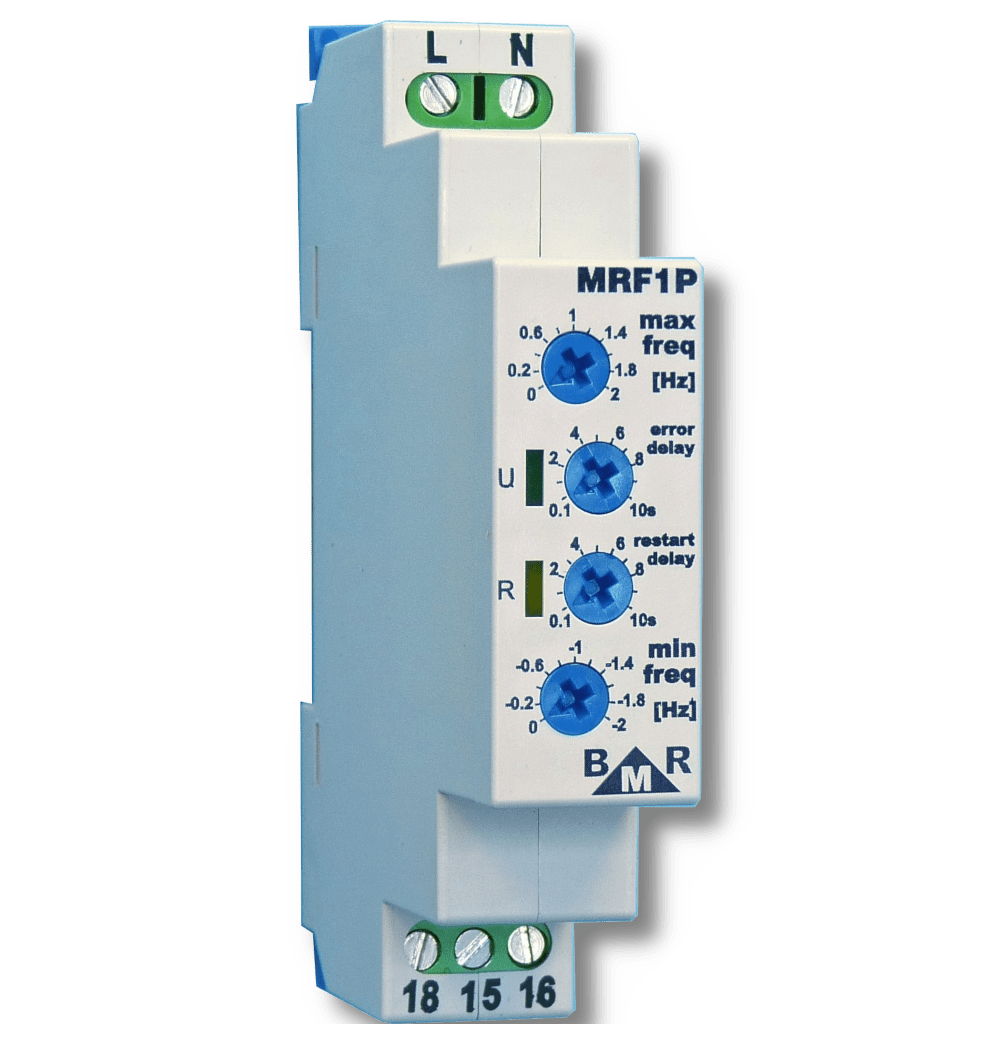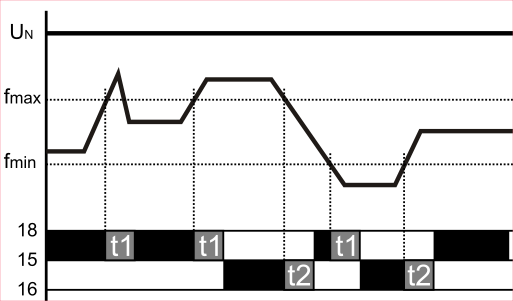 Function
After correct connection of the supply voltage, the green LED lights up. If the measured frequency is within the set range, the restart timing (t2) is started. This is signaled by a briefly flashing yellow LED. After the restart time has passed, the output relay closes and the yellow LED lights up continuously. If the frequency goes out of the set range, the delay for the fault indication (t1) starts. This time is signaled by a yellow LED that goes out briefly. After this time expires, the relay opens and the yellow LED flashes symmetrically with a frequency of 0.5 seconds if the frequency is high. If the monitored frequency is lower than the set value, the yellow LED will go out. Once the frequency returns to the desired range, a restart delay starts and when it expires, the relay closes and the yellow LED lights up.
Technical features
| Parameter | Value |
| --- | --- |
| supply voltage | 230 VAC (+10%, -15%) |
| self consumption | max. 1.5 VA |
| nominal frequency | 50 Hz (+/-10 Hz) |
| measuring range | 40 ... 70 Hz |
| hysteresis | fix 0.2 Hz |
| delay time T (adjustable) | 1 ... 10 s or OFF |
| measuring cycle | 200 ms |
| frequency control limit (adjustable) | +/-2 Hz (value 0 disable function) |
| fault condition time (adjustable) | 0.1 ... 10 s |
| re-connection delay time | 0.1 ... 10 s |
| number and type of output contact | 1x changeover |
| nominal current | 5 A |
| switching power | max. AC 1000 VA |
| trigger current | 30 A |
| nominal/max switching voltage | 250 VAC / 440 VAC |
| mechanical lifetime | 3 x 106 |
| electrical lifetime | 1 x 104 250 VAC, 8 A |
| ambient temperature | -20 ... +55 °C |
| working position | any |
| mounting | IEC 60715 (DIN 35) |
| protection degree | IP 20 |
| I/O insulation | 4 kV |
| maximum input wire diameter | max. 2 x 1.5 mm2; 1 x 2.5 mm2 |
| weight | 85 g |
| dimension | 90 x 18 x 65 mm |
| related standards | IEC 60255-6, IEC 61010 |