PF Controller FCR05 & FCR07
Power factor controllers FCR05 and FCR07 are 4 quadrant controllers designed for low voltage applications. The design gives possibility to control up to 6 compensation stages for FCR05 and up to 8 stages for FCR07 regulator. Last output can be programmed to be used as an alarm output or as a normally regulated compensation stage.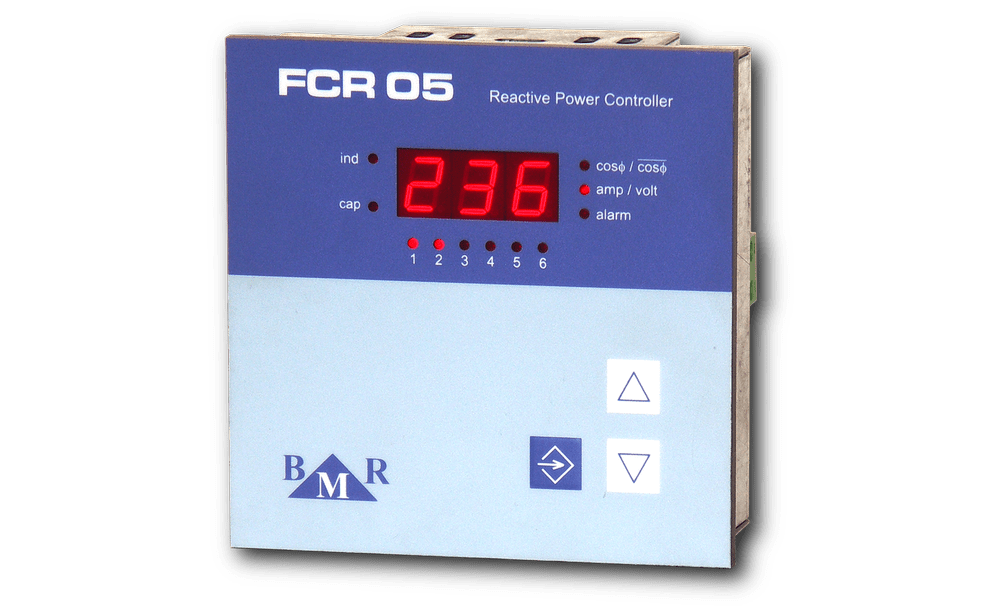 4 quadrant measurement and regulation
designed for LV and MV PFC based on contactors
ready for de-compensation reactor usage
automatic detection of measuring circuit
automatic detection of capacitor steps
high sensitivity of current measuring input (2 mA)
strong imunity agains high harmonic polution
6 or 8 regulated outputs
three regulation methods for various nation rules
logging memory of min and max values
logging of operation number and time of each step
communication interface RS485
Modbus RTU communication protocol
internal temperature sensor
panel mounting design 96 x 96 mm
PC SW for configuration and monitoring
Function
Device digitizes measured phase voltage and current in one phase. Then, from those values, parameters like: power factor, effective values of voltage and current, apparent power and reactive power, are calculated. With consideration of requested cosφ it calculated need compensation power. According to its size, regulator switches on or off appropriate capacitor stages.
Within the scope of each power level, regulator uses method of circle switching. All the time connects this stage at appropriate power level which was switched off for longest time. Everything is made so that regulator will reach optimal compensation in one regulation cycle with minimum number of switched stages.
Alarms
Last step of power factor controller is normally working as a standard step but it can be removed from regulation algorithm and used for alarm purposes. Configuration of last step alarm output is easy to be enabled in setup menu.
Circular switching
Within a group of the same powers of capacitor steps, controller uses so called circular switching method. Controller uses the step that was disconnected longest time in order to balance equal usage of all capacitors.
Software
Thanks for software Power Monitor System is possible controllers with RS485 easily configured and also use for monitoring of PFC systems.
Technical features
| Parameter | Value |
| --- | --- |
| supply voltage | 400 V AC 50 Hz (+10%, -20%) |
| measuring voltage range | 400 V AC 50 Hz (+10%, -20%) |
| system frequency | 50 / 60 Hz |
| measuring current range | 0.01 ... 5.3 A |
| self consumption | 10 VA |
| number of regulated outputs | 6 or 8 |
| alarm output | last step |
| output contact load | 250 VAC / 5A |
| range of regulated PF | 0.8 L ... 0.8 C |
| capacitor step settings | manual / automatic |
| ambient temperature | -40°C ... +70°C |
| front panel | 97 x 97 mm |
| panel cutout | 91 x 91 mm |
| installation depth | 55 mm |
| weight | 650 g |
| protection degree | IP20 read side / IP54 front panel |